DECORATING WITH VARIOUS STYLES (MIX AND MATCH)
HOW TO RECOGNIZE THE STYLES THAT ACTUALLY IMPROVE EACH OTHER AND AVOID CATASTROPHIC PAIRING
DECORATING WITH VARIOUS STYLES (MIX AND MATCH)
HOW TO RECOGNIZE THE STYLES THAT ACTUALLY IMPROVE EACH OTHER AND AVOID CATASTROPHIC PAIRING
Choosing the appropriate style for our spaces is not always an easy task. Imagine a huge playroom decorated according to minimalism or a tiny bathroom painted in neon colors: it just would not work, and if picking a single trend is difficult then combining different fashions is usually an even greater challenge.
Moreover, our personal opinion is not the only important source of inspiration, because not every room is fit for every trend. Special attention has to be paid to the type of room, the desired ambiance and the general size.
But not all is lost! There are certain tips that will assure a successful result: I will be happy to share the secrets with you and guide you in mixing and matching all those fashions that have stolen your heart
FIND SIMILARITIES AND PROFIT FROM THEM
Linking different styles is something that must be done with extreme caution in order to respect balance and achieve a perfect look. When combining two (or more) trends, it is essential to find a meeting point between them: it could be a matching color or a similar shape, but even the most diverse objects need to tell the same story.
Another strategy would be keeping items in pairs, so they seem part of a group and not thrown in an arbitrary fashion. Cushions, ornaments, frames… every element can be combined and improve its companions f chosen with a little taste.
DO NOT OVERLOOK THE POWER OF NEUTRAL TONES
In the event of a renovation, most people will try and flip the characteristics of a certain space almost to the exact opposite and this can result in a loud cry for help. On the contrary, your best friends while decorating are, without a doubt, the neutral tones.
As they do not stand out, white, black, grey or even earthy shades can act as glue between very diverse items. Pastel shades or bold colors both go well with neutral tones, though it is advisable not to use everything at the same time!
BEWARE OF PATTERNS
One of the most important features in interior design is the pattern. It can make a space come alive and add personality and character. Yet a pattern can also completely dominate a room, and that is why it must be handled with care.
If you are thinking of combining various patterns, make sure that they are compatible. A simple way to do so is by pairing a simple pattern, such as stripes or dots, with a complex one, like flowers, animal print or paisley.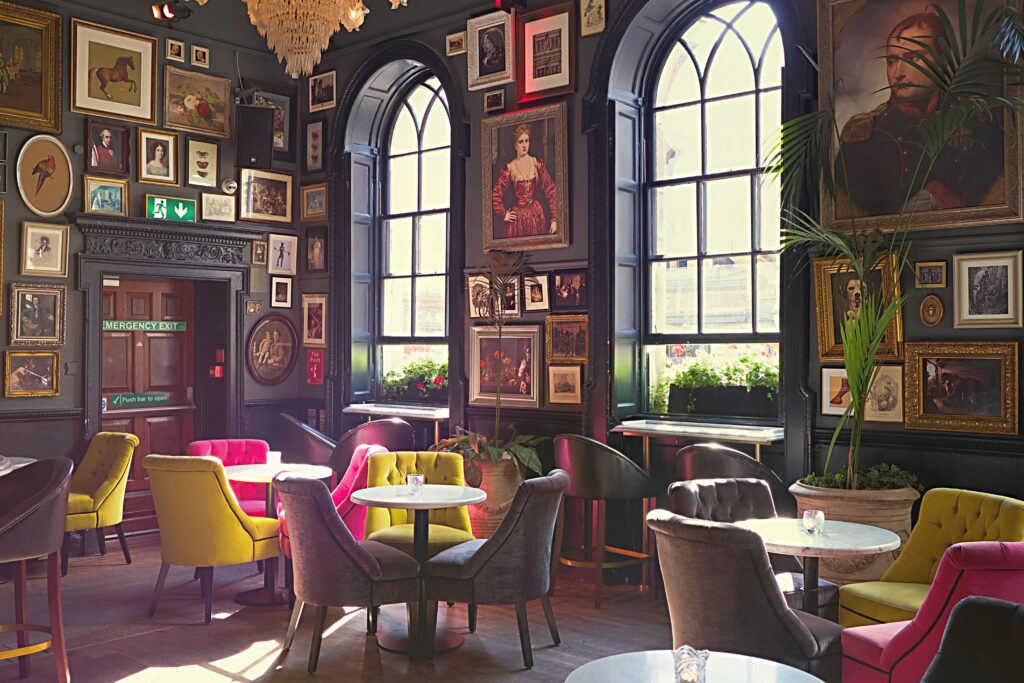 Balancing the use of patterns is also a key point: by positioning elements evenly throughout the entire area, it is possible to create harmonic and beautiful spaces. Furthermore, an item with a very striking pattern can also be the star of a certain room if located in the right place.
THE ECLECTIC DREAM COMES TRUE
Mixing and matching might be exactly what you are looking for if you are a fan of eclectic design, because, after all, eclecticism is no more than the perfect combination between the best of various styles.
Not only styles can be mixed and matched. As previously said, colors, textures, patterns, shapes… everything can be used in order to create amazing projects. Through this strategy, it is possible to combine old and boring furniture (the kind that has been inherited) with bold and striking features, such as fabrics or ornaments, that will carry them forward in time.
That is precisely why the eclectic style is my favorite and I strive to design the most diverse and personalized spaces.
Mixing and matching is an exciting way to bring beauty and spice to otherwise plain spaces. This approach can easily change a room and give it the new feel that you are looking for.
So, whenever you are thinking of making a drastic change to the appearance of your spaces, follow my advice and keep in mind these rules to be on the path to success. And if you want to go the extra mile, I will be always available to assist you. Contact me anytime for a half-hour meeting, free of charge, in studio or via Skype.
The Architect's Advice
Architect and urbanist, I was born in Pisticci, a town in the province of Matera, in the south of Italy.
My occupation allows me to express my passion for ARCHITECTURE, in all of its forms, from urban planning to construction, from the building site to interior design.
Architect and urbanist, I was born in Pisticci, a town in the province of Matera, in the south of Italy.
My occupation allows me to express my passion for ARCHITECTURE, in all of its forms, from urban planning to construction, from the building site to interior design.
All spaces require light and during nighttime, electricity is essential. Consequently, lamps have turn into an object that is ever present in our homes and, if used smartly, an item capable of decorating any space. As an architect, I can help you choose the perfect lighting fixtures for your spaces, the ones that will emphasize style while being functional and adjusted to your particular budget. Here are some fundamental notions that will help you choose the lamp (or lamps) that answer to your every need.
At this time of year, most of us are thinking about the upcoming holidays: Christmas and New Year. Preparing delicious food and buying gifts for our family and friends tend to make this period stressful, but one essential ingredient is, without a doubt, the choice of decorations that contributes to filling our spaces with magic. Here are some tips to turn your home into a cheerful, happy and festive version of itself!
The mirror is one of the most popular objects used for interior design. It can decorate, illuminate and create an illusion of more room. These are the key points that have to be carefully thought of when adding a mirror to your spaces.
CREATE YOUR OWN PROJECT WITH MY HELP
CREATE YOUR OWN PROJECT WITH MY HELP